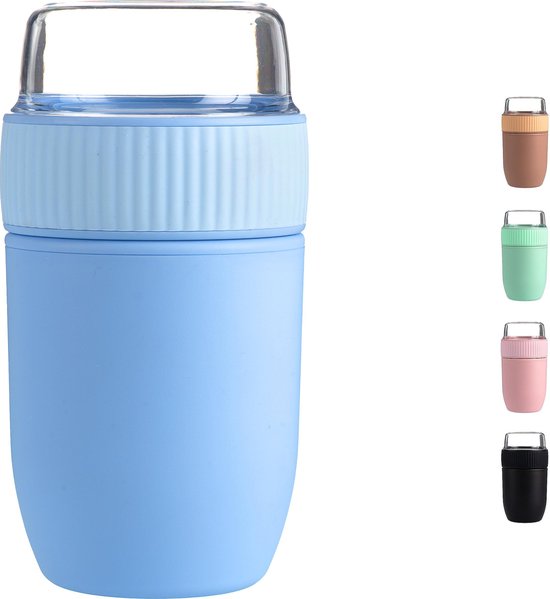 Yoghurtbeker to Go - Mueslibeker to Go 640ml (450ml + 190ml) - Lunch cup - Muesli Cup Coninx Yogo Blue
Sale price

€19,67
Regular price

€24,59
Ihr Rabatt: €4,92

Incl. VAT
Order before 16:30h, delivery within 1-3 business days
Auf Amazon ansehen
Product Descriptions
Healthy snacking with this trendy Lunchpot to Go from the Dutch brand Coninx.

Take a healthy meal with you anytime and anywhere thanks to the Lunchpot to Go. This container has a smart design that consists of two parts. This way you not only take a delicious drink or fresh yogurt with you, but you can also store fruit, vegetables or cereals in the container. Ideal for a long working day or when you are on the road all day. It's easy, quick and super healthy too. That's not all, because the Lunchpot to Go has a lot more to offer:

• 100% LEAK-PROOF DESIGN: Both boxes of the Lunchpot to Go are closed with a sturdy screw cap. So feel free to put it in your bag!

• PERFECT FOR THE GO: The silicone strap ensures that you have enough grip. At the same time, the container has a narrow design, which makes it easy to hold even if you have smaller hands.

• EASY TO CLEAN: The Lunchpot to Go can be completely disassembled, so you can thoroughly clean every part. The material is also dishwasher safe. Not suitable for use in the microwave, this can damage the sealing rubber.

• DURABLE DESIGN: The container is made of double-walled BPA-free plastic. That makes it a sustainable choice that you can enjoy for a long time to come.

• IDEAL AS GIFT: An original gift for anyone who travels a lot, for school-age children and young people.
The Lunchpot to Go is available in five trendy colours, so choose a model that suits you completely. Its handy size also makes it an ideal gift. So don't just make yourself happy with the Lunchpot to Go, but surprise your friends, colleagues or partner!
Specifications


Warranty And Services
Warranty and Service
A 30-day return policy applies to your order.
When you order from us, you can be sure that you are ordering a premium-quality product. We apply a special warranty plan on our products, which are covered for a minimum of two years. The manufacturer's warranty may apply in addition to the statutory warranty, increasing the total warranty to up to ten years. If your product comes with a manufacturer's warranty, you will find the details in the user's manual.
Our guarantee:
A warranty period of at least 2 years
The warranty is effective from the date of delivery
You are entitled to free spare parts for reparation or to a replacement
The cost of shipping will be charged to the supplier and the return shipping costs will be at our expense.
The warranty does not apply to:
Damage due to improper use
Parts affected by wear and tear
Defects or faults that are already known at the time of purchase. If this occurs, please contact our customer service team immediately.