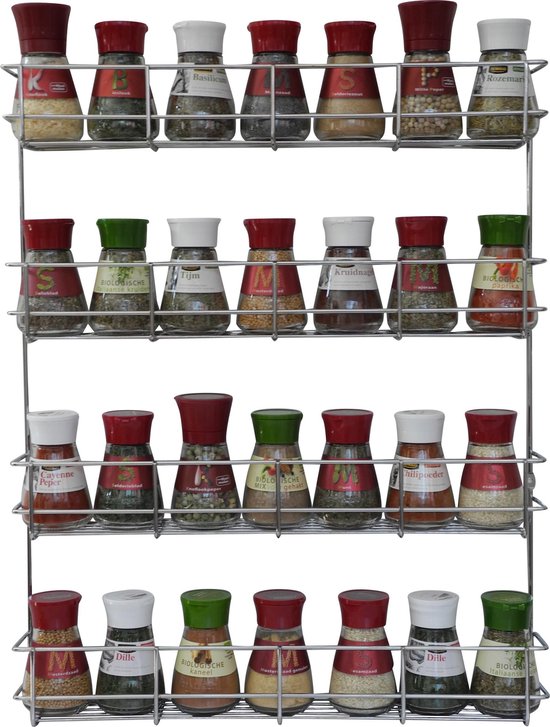 Spice rack Suspicious Coninx KR3000 - 4 Lows for 32 Spice jars - Wall, Wall cupboard, Cabinet door - Hanging herbal organizer
Sale price

€28,52
Incl. VAT
Order before 16:30h, delivery within 1-3 business days
Auf Amazon ansehen
Product Descriptions
Are you sorry to browse your cabinets constantly after spices when you want to cook?

The kitchen is one of the most important rooms in each apartment and it will also be referred to as a "engine room" of a household. No apartment can really be domain organized when neglecting the kitchen.
A really well-organized kitchen ensures that cooking can be easier and entertaining. By managing a well-stocked kitchen, also ensure less waste food and reduce your household expenses.

To arrange a kitchen, you should always start with the spices - but to create the right order, you also need the matching tools. Exactly at this point we will help you!

The COPA design spice rack is a perfect place to store your spices or even small doses with herbs.
So you can arrange up to 32 pieces on a single place. You can attach it anywhere in the kitchen or attach it to a wall or cabinet or shelf door if you do not have so much space. Whether you prepare Indian, Chinese, Mexican or Thai food, will no matter you in the future, because this spice shelf provides you with all herbs and spices you need - without having to start long search activities.

You will receive a three-year warranty.
Order today!
Specifications


Warranty And Services
Warranty and Service
A 30-day return policy applies to your order.
When you order from us, you can be sure that you are ordering a premium-quality product. We apply a special warranty plan on our products, which are covered for a minimum of two years. The manufacturer's warranty may apply in addition to the statutory warranty, increasing the total warranty to up to ten years. If your product comes with a manufacturer's warranty, you will find the details in the user's manual.
Our guarantee:
A warranty period of at least 2 years
The warranty is effective from the date of delivery
You are entitled to free spare parts for reparation or to a replacement
The cost of shipping will be charged to the supplier and the return shipping costs will be at our expense.
The warranty does not apply to:
Damage due to improper use
Parts affected by wear and tear
Defects or faults that are already known at the time of purchase. If this occurs, please contact our customer service team immediately.