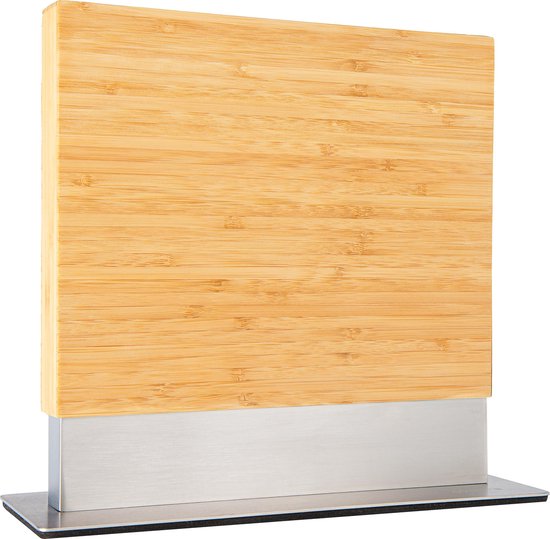 Magnetic Knife Block / Magnetic Knife Holder Coninx Vertico - Bamboo Wood - Strong Magnet
Sale price

€48,20
Incl. VAT
Order before 16:30h, delivery within 1-3 business days
Auf Amazon ansehen
Product Descriptions
Magnetic knife block empty: Are you tired of your 08/15 knife block Our magnetic knife block is made from natural bamboo wood making it a stylish yet functional eye-catcher. Use the knife block universally for a wide range of kitchen knives and utensils.
Strong and stable knife block: Our magnetic knife holder made of bamboo wood is incredibly easy to clean and at the same time very robust. A sustainable knife for safe storage of your kitchen knives.
Magnetic knife holder with non-slip base: Our bamboo magnetic knife block without knife is equipped with non-slip felt pads and can therefore also be used safely on slippery work surfaces. No slipping, slipping or wobbling.
Magnetic wooden knife block: The strong magnet in the knife block inside ensures that the metal tips of your kitchen knives are tightened even with the smallest contact. This makes the knife magnetic block particularly safe.
Great price performance ratio: Our magnetic knife holder is characterised by high-quality materials and first-cl workman. We are sure that you will be satisfied with your unequipped knife magnetic holder. Order now!
Specifications


Warranty And Services
Warranty and Service
A 30-day return policy applies to your order.
When you order from us, you can be sure that you are ordering a premium-quality product. We apply a special warranty plan on our products, which are covered for a minimum of two years. The manufacturer's warranty may apply in addition to the statutory warranty, increasing the total warranty to up to ten years. If your product comes with a manufacturer's warranty, you will find the details in the user's manual.
Our guarantee:
A warranty period of at least 2 years
The warranty is effective from the date of delivery
You are entitled to free spare parts for reparation or to a replacement
The cost of shipping will be charged to the supplier and the return shipping costs will be at our expense.
The warranty does not apply to:
Damage due to improper use
Parts affected by wear and tear
Defects or faults that are already known at the time of purchase. If this occurs, please contact our customer service team immediately.